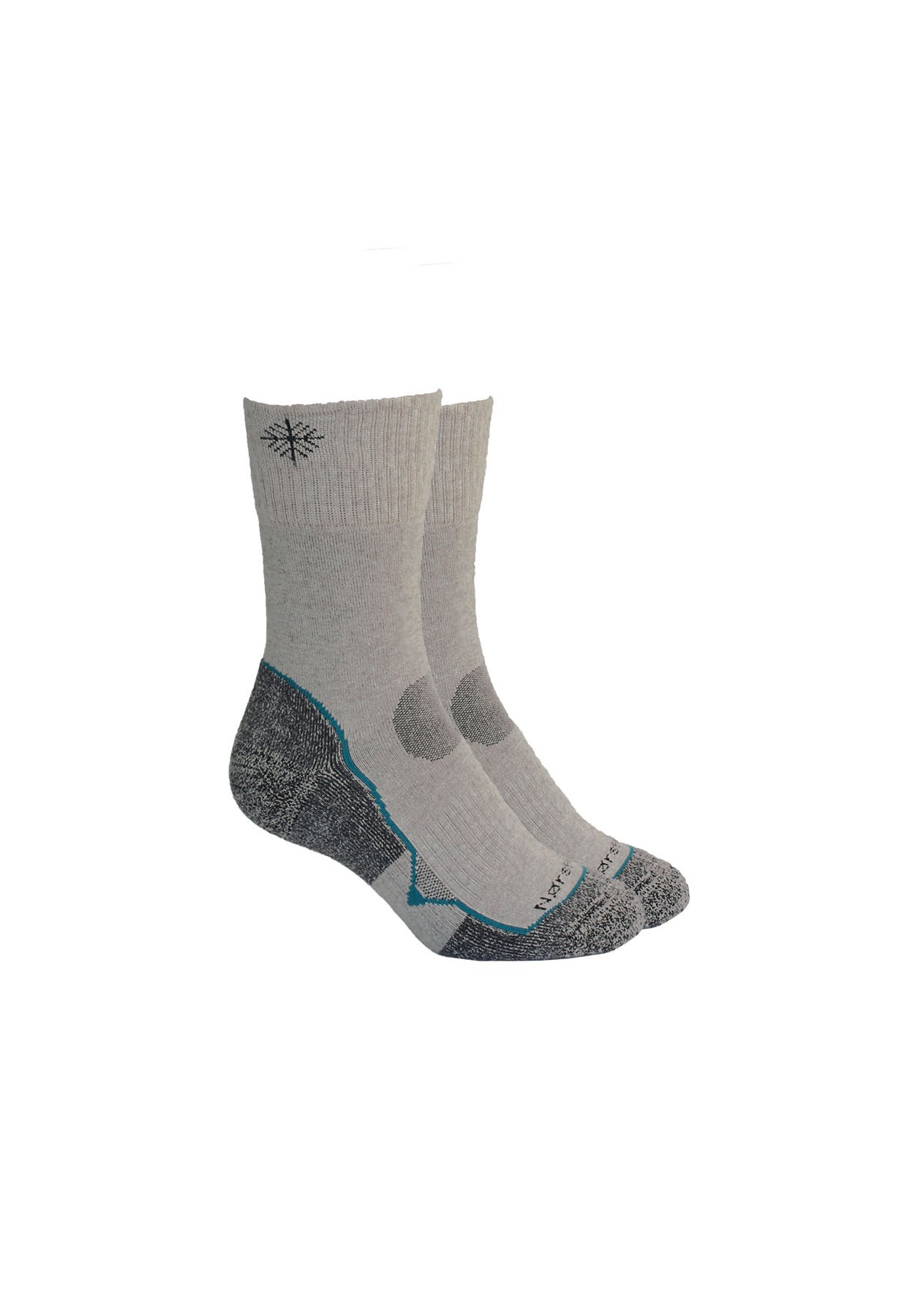 Merino Possum Hiker Sock
Style Code 8496
Or 4 payments from $8

What's this?
Description
Possum hikers are the best socks for hiking because we designed them for just that purpose. The secret is the rich blend of natural merino wool, possum fur and cotton balanced with nylon and elastic for a close comfortable fit, because no hiker wants two boots full of bunched socks. The natural fibres keep your feet warm, even when they're wet, and breathing freely, even when you're breathing hard. Try a pair and discover why they're the best socks for hiking. 30% Merino, 20% Possum, 20% Cotton, 22% Nylon, 8% Elastic. Made in New Zealand by Norsewear.
Shipping / Returns
Shipping Within New Zealand (1-3 Working Days)
$7.00 flat rate for garments and yarn anywhere in New Zealand.
Shipping to Australia
$18.00 flat rate for garments (excludes yarn) anywhere in Australia.
Shipping to Rest of World (5-10 Working Days)
$25.00 flat rate for garments (excludes yarn) to all countries we ship to.
For more shipping info please click here
An order can be returned within 21 days of receipt.
Your order will include a returns form. Please fill this form out and include it with your returned item/s.
For more returns info please click here
Product Care
Cold wash in soft detergent. Do not bleach. Do not tumble dry. Dry in shade.
Oliver
This is our favourite sock by far. Both for travel (take it as your only hiking sock / warm sock) and for daily use at home (great in slippers) and out and about in the shoulder seasons and winter. He wears an XL (UK 13) and she wears a S (UK women 6.5). They feel thick and are incredibly warm but are actually quite a thin sock (somewhere between dress sock and mid weight sock) so will fit in shoes, boots and hiking boots. Neither pair are showing any signs of wear after 6 months of almost daily use, so the addition of the cotton and nylon mix especially in the reinforced heel and toe is well placed. They are at least twice as warm as our normal wool socks of the same thickness, are softer given the possum content and feel extremely well put together. For comparison, they feel higher quality than Icebreaker socks.
Cedric
I made an experiment with these Merino Possum Hiker socks vs pure synthetic hiker technical socks, one on each on my feet with my boots. I walked fast for an hour. Quickly the feet were really hot. The difference I noticed was that I felt a dep itchiness on the plantar foot I was wearing the synthetic but not on the Merino, which was a great plus. They were nearly humid at the same level, and they dried nearly at the same speed (fast). I also noticed that the Merino absorbed more the friction between my toes and the leather of the boots, hence a smoother skin contact. The size was fitting me also better. In conclusion, I really loved to wear the merino possum socks as a foot warmer in the house or for a walk.